Another stop on this summer's worldwide tour – today we're in the Kristiine Shoping Mall in Estonia. Nayax is recognizable everywhere, accepting contact, contactless and swipe in 26 currencies. Boft allows their customers to print photos from Instagram and when they're ready to buy, it's with the use of a credit or debit card, prepaid card or mobile app! VPOS touch perfectly fits into the customer friendly touchscreen interface. Make sure your consumers have the convenience they're looking for!
As seen in the Pelguranna, the Maternity Hospital of Tallinn, in the Estonia. Making it easy for visitors and caring fathers to purchase flower branches for the mothers of newborn children, when they want, how they want. Nayax's VPOS cashless payment solution accepts all major methods of payment, whether by credit card or mobile app. Where have you seen VPOS today?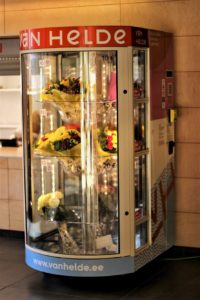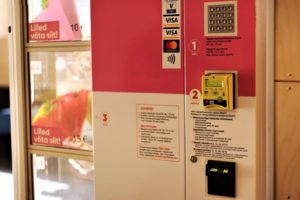 Sometimes your unattended device is off the beaten track. How do you keep up-to-date and know at all times, the status of your machines? Even if there's a power outage for a day, you stand to lose a significant number of sales. With Nayax's robust alert system, operators can receive instant notifications. Our management suite lets you customize the notifications you receive, allowing you to choose the updates most critical to you and your business, such as power up/down, temperature and more. Nayax helps ensure that even if a machine is out of sight, you can still have peace of mind. Kiddy rides at Rocca al Mare shopping center in Tallinn, Estonia.
Which application do you need cashless payments for? Myndipesula in Estonia has installed Nayax's VPOS at an automated car wash. Make it easy for your customers to make impulse purchases, without worrying if they have cash on hand. Nayax's yellow box stands out and makes it easy for consumers to see where to pay. And with so many Nayax devices installed around the world, it's a familiar site to all!